Chain conveyor are continuous conveyors and are suited for the conveyance of bulk products of all kind up to small-sized products and sludges. The advantages are its excellent temperature resistance (up to 800°C), the low conveying velocities, particularly in case of abrasive bulk material, and the robust and dustproof design. There is a wide range of possible applications and different configurations. At present, more than 300 devices are used by more than 70 customers worldwide.
Essential Information
Experience
> 300 chain conveyors built
> 40 pcs. in the temperature range over 600°C
> 30 pcs. presenting sloped or inclined sections
 
Special Characteristics – Application (USP)    
Automatic thermal expansion compensation thanks to chain slack construction
Integrated tensioning station for wear compensation
Low-wear design in the high-temperature range
Exterior dustproof and pressure-resistant flange bearings
Customer-specific detailed solutions (Obertrum)
Special discharge conveyors designed for boilers 2/3 Zug MVA
STAG Service Support
 
Industries
Waste-to-energy power plants, thermal waste treatment
Energy generation and power plant industry
Cement industry, mineral and constructions materials
Waste water, sewage sludge and Recycling
Steel industry
Numerous customized solutions
Technical Specifications
•   Conveying lengths 6 - 50 m
•    Conveying heights 3 - 35 m
•    Conveying rates 1 - 100 m³/h
•    Dimensions (width) 290 bis 1100 mm
•    Temperature resistance up to 800°C
Waste-to-energy power plants, thermal waste treatment

Boiler, electric filter and fabric filter ash removal  

Slag discharge

etc.

Energy generation and power plant industry

Electric filter ash removal

etc.

Cement industry, mineral and construction materials

Animal meal

Cement

Sewage sludge

EBS

etc.

Waste water, sewage sludge and recycling

Sewage sludge wet and dry

Bunker discharge

Steel industry

Numerous special solutions
Appropriate Topics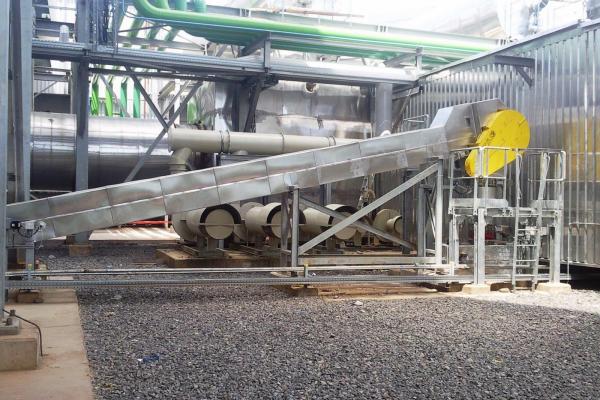 In this diesel-fired power plant, exhaust air is cleaned by means of two electric filters. Respectively two trough chain conveyors per filter serve for evacuating the ash. For each line, a collecting trough chain conveyor is provided receiving the ash.
to the project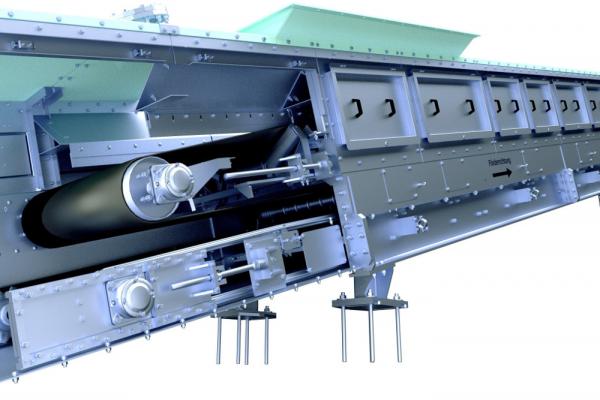 Closed Conveyor Belt (dustproof)
The closed STAG Conveyor Belt stands out through its dustproof design and its integrated scraper floor. With this construction method the conveyor belt can be operated by a slight vacuum.
to the product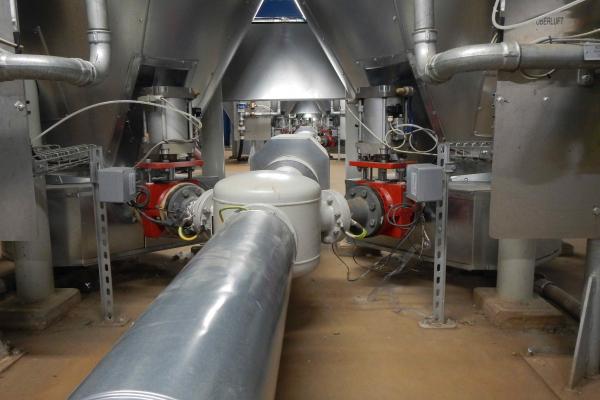 Power Plant Karlsruhe Block8
In 2013, a modern coal block has been put into operation in Karlsruhe. For this project, STAG was entrusted with the engineering and delivery of the mechanical and pneumatic ash removal of the electric filter.
to the project