Lignite Transhipment Brandenburg
At the site of Brandenburg, STAG has been entrusted by Rheinbraun Brennstoff GmbH to build a terminal serving for the transhipment of pulverised lignite from rail to road. STAG was responsible for the engineering, construction, assembly and successful commissioning of the overall plant. In March 2011, the project was completed and delivered to the customer.
Due to our long experience in the handling of dust-explosive bulk products as well as to the innovative approach in the area of logistics, STAG was awarded the very coveted overall contract.
The pulverised lignite is supplied by means of block trains composed of 20 wagons each, and pneumatically unloaded into two storage silos presenting each a storage capacity 1,300 m3. The silo vehicles are fed from the storage silos and then, transport the pulverised lignite to the final customer. The overall plant is inspected on an an-nual basis by a STAG service manager who also records its present condition. This approach is part of the STAG Life Cycle philosophy.
Essential Information
Applied Main Components
•    Silo system including steel construction (2 x 1,300m3)
•    Silo equipment (complete)
•    Rail wagon discharge system featuring ten discharge points
•    Compressed air treatment for conveying and control air
•    Safety equipment including CO2 distribution
•    Truck loading plant with control and chip card system
•    Plant control system and switchboard
 
Particularities
•    Conception, assembly and commissioning of the overall system
•    Safety-related overall responsibility including ATEX certification.
•    Direct cooperation with the operating company
•    The plant has been designed, built and put into operation according to  the ATEX Directive 2014/34/EU.
 
Client
•    RWE Service GmbH
Technical Information
| System | Conveying rate | Conveying distance |
| --- | --- | --- |
| Rail wagon discharge | 2x50 t/h | 80-170m |
| Truck discharge | 4x50 t/h | - |
Semi-automatic rail wagon discharge for ten rail wagons

Compressed air installation (conveying and control air)

Silo system including steel construction

Control system
| Bulk material | Form | Grain size | Moisture content | Bulk density | Temperature | Property |
| --- | --- | --- | --- | --- | --- | --- |
| Pulverised lignite | Powder | 84 %<200 µm, 57 %<90 µm | 11% | 0.56 t/m³ | 20 °C | explosive, abrasive |
Appropriate Topics
Das Holzheizkraftwerk (HHKW) Aubrugg produziert ökologischen Strom und Wärme aus naturbelassenen, CO2-neutralen Holzhackschnitzeln. Anstelle von fossilen Brennstoffen wird einheimisches Energieholz aus dem Wald genutzt.
to the project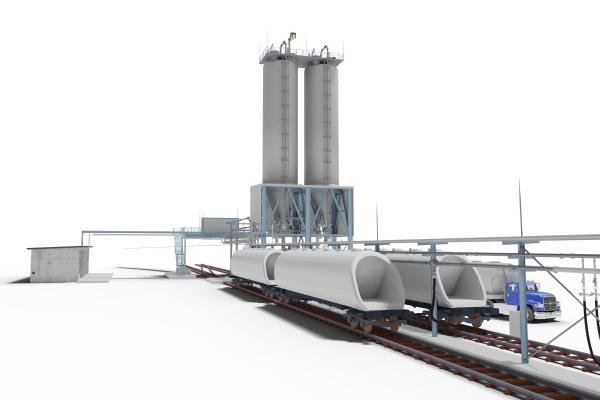 Silo Rail Wagon Unloading
The transport of bulk materials takes place for reasons of cost , as well as for environmental compatibility, increasingly in silo cars by train. The regional distributio
read more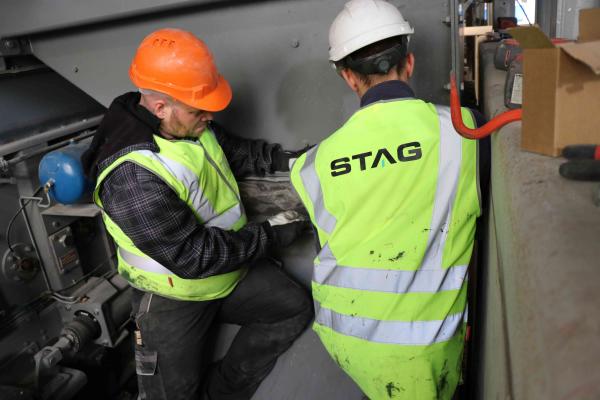 Each year, around 100 service assignments are carried out by STAG. From small inspections up to several-weeks of a total plant revision, our customers have Projektmanager, audit managers and audit teams at their disposal. The life-cycle-oriented service backup serves as the basis. This includes t
to the service