The push floor is particularly well suited for poor flowing bulk products or even pasty substances such as sewage sludge. Covering a wide range of applications, this system particularly excels in storing alternative fuels (animal meal, sewage sludge, scrap wood, bark waste, etc.) – but also of other products – through its simple mode of operation, its excellent reliability and operational safety.
The push floor is incorporated in rectangular bunkers or in round-shaped silos.
Essential Information
Experience
Discharge of wood chips in paper plants
Reaktoraustrag in waste-to-energy power plants
Bunker discharge wood-fired power Station
Silo discharge alternative fuels cement plants
 
Special Characteristics – Application (USP)    
Robust design
Variable dimensions
Discharge in material flow, no arching
Little wear
Low maintenance. Variable discharge rate by adjustment of hoist-cycle speed
 
Industries
Wood-fired power stations
Waste-to-energy power plants
Sewage sludge recovery
Technical Specifications
The push flow for silos is composed of an oval-shaped sliding frame, a push rod and a hydraulic cylinder provided with a hydraulic group. The hydraulic cylinder moves the sliding frame backwards and forwards on the silo floor. The sliding frame is shaped in a way that each movement of the frame continuously feeds the bulk material into the discharge opening. Mostly, a screw conveyor or a trough chain conveyor is connected to the discharge opening, which removes the discharged bulk material.
The push floor for bunkers is composed of three or more rectangular sliding frames, which are respectively provided with a hydraulic cylinder as well as with a common hydraulic group. Each hydraulic cylinder moves its sliding frame backwards and forwards on the silo floor. The sliding frame's shape and feed rate are such that each movement continuously pushes the bulk material over the front release edge. Mostly, a screw conveyor, a trough chain conveyor or a conveyor belt is installed underneath the release edge removing the discharged bulk material.   
Appropriate Topics
Discharge chain conveyors are installed at bunker outlet points or directly in boiler hoppers. The dimensioning and construction of the large inlet opening require detailed knowledge.
to the product
Das Holzheizkraftwerk (HHKW) Aubrugg produziert ökologischen Strom und Wärme aus naturbelassenen, CO2-neutralen Holzhackschnitzeln. Anstelle von fossilen Brennstoffen wird einheimisches Energieholz aus dem Wald genutzt.
to the project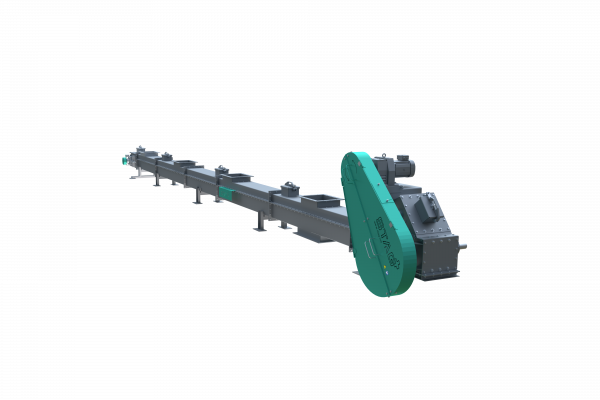 Chain conveyor are continuous conveyors and are suited for the conveyance of bulk products of all kind up to small-sized products and sludges.
to the product