Water Treatment Seine Amont (Valenton)
In order to avoid overheating of dry sewage sludge, the material must be regularly shifted. For this purpose, a pressure conveying vessel provided with two outlet flaps has been installed underneath each storage silo. Thus, the same pressure conveying vessels can be additionally used to feed the storage silos by means of an existing dilute phase conveying line.
Moistening of dry sewage sludge dust to allow open loading constitutes another speciality of STAG. The dry sewage sludge dust generated in the fabric filter is conveyed into a storage silo by means of pressure conveying vessel conveyance. Various components such as the silo discharge system (SILEX) and the silo cone fluidisation serve for supporting the discharge of bulk material up to the screw humidifier.
This is one of the many projects in the area of pneumatic bulk material conveying and storing implemented by STAG on behalf of the plant operator "SIAAP" in the Paris region over the past years.
Essential Information
Applied Main Components
•    Pressure conveying vessel
•    Wear-resistant conveying lines (ceramic lining for deflector elements)
•    Silo discharge system (SILEX)
•    Pneumatic bulking in silos
•    Rail wagon loading facility
•    Screw conveyor
•    Screw humidifier
 
Particularities
•    Dry sewage sludge granulate belongs to the explosive substances. The plant has been engineered, built and commissioned according to the currently applicable requirements stipulated in the ATEX Directive 2014/34/EU.
•    Integration of new transport system via pressure conveying vessels into the existing dilute phase conveying system.
 
Client
•    Dégrement SUEZ
Technical Information
| Systems | Conveying rate | Conveying distance |
| --- | --- | --- |
| Pneum. transport of sewage sludge granulate | 35.0 t/h per line | 60 - 80 m |
| Pneum. transport of sewage sludge dust from filter | 0.15 t/h | 50 m |
| Moistening of sewage sludge dust | 18.0 t/h | - |
•    Pneumatic transport of dry sewage sludge granulate
•    Dense phase conveying lines
•    Silo discharge system for loading of SNCF rail wagons
•    Silo discharge system including transport facility for ash moistening
| Bulk material | Grain size | Moisture content | Moisture content | Temperature | Property |
| --- | --- | --- | --- | --- | --- |
| Dry sewage sludge granulate -Granulat (TKS) | Ø 5mm x15mm | > 92 % | 0.60-0.75 t/m³ | 45 °C | abrasive |
| Dry sewage sludge dust–Staub | 100% < 300 µm | 94 % | 0.65 – 0.85 t/m³ | 45 °C | abrasive |
Appropriate Topics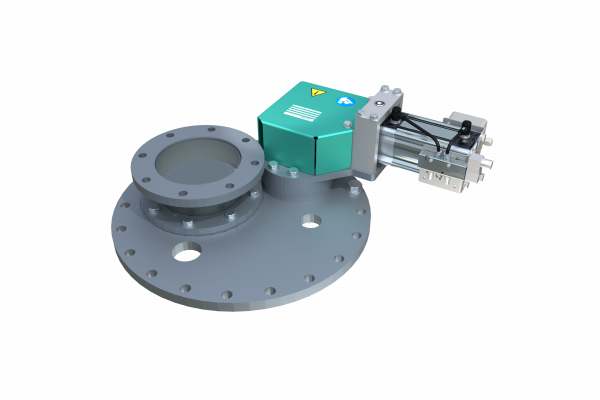 The one-sided sealing turn slide valve has been especially designed for pneumatic conveying as part of the STAG pressure conveying vessel technology. No other system can satisfy the high demands of this application.
to the product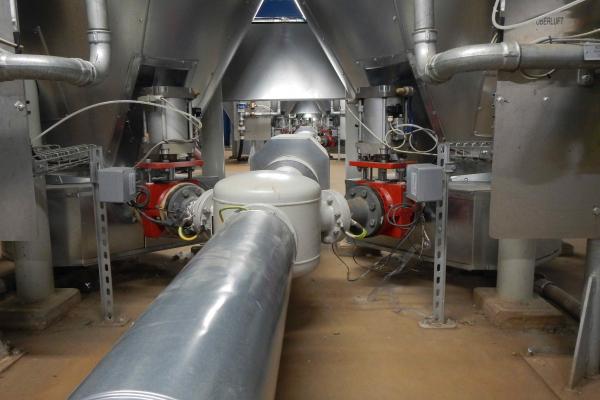 Power Plant Karlsruhe Block8
In 2013, a modern coal block has been put into operation in Karlsruhe. For this project, STAG was entrusted with the engineering and delivery of the mechanical and pneumatic ash removal of the electric filter.
to the project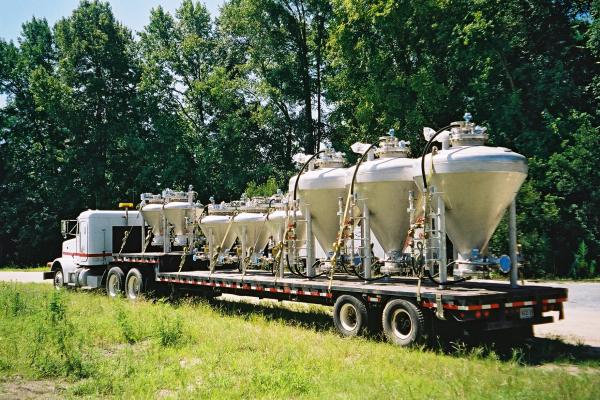 Spare and Wear Part Management
Each year STAG handles around 500 customer orders and achieves satisfied customers around the world. Here too, the focus lies on life-cycle-oriented warehousing as well as the plant availability. The experienced employees of the business area service are happy to answer any questions or suggestio
to the service