Mobile Lime/Cement Transport and Dosing Facility / Liebherr Nenzing
In 2009, Liebherr-Werke Nenzing GmbH invited STAG to develop and produce a customised solution for pneu-matic disposal of a lime/cement mixture into the drill ground. Based of its extensive experience in the field of pneumatic conveying, STAG engineered, built and successfully commissioned the conveying plant. The ''mobile" conveying plant, including the control system, has been mounted onto a ramming and drilling equipment.  
Feeding of the two pressure vessels is ensured by applying the pneumatic method from the extern silo vehicle. The bulk material quantity is determined in each pressure vessel and then discharged via a subsequent rotary vane feeder into the conveying flow, which then feeds the bulk material pneumatically into the "drill head" and the drill ground via a conveying line. 
Essential Information
Applied Main Components
•    Pressure vessel with integrated weighing system
•    Compressor with refrigeration dryer
•    Membrane filter
•    Exhaust air filter
•    Blow-off locks
 
Particularities
•    Pressure silo container with conveying system mounted to the ramming and drilling unit for ground stabilisation purpose
•    The plant is preinstalled on a base frame as mobile compact unit.
 
Client
•    Liebherr Nenzing, special machines
Technical Information
| Systems | Conveying rate | Conveying distance |
| --- | --- | --- |
| Pneumatic cement conveying | 2.4 – 7.2 t/h | 20 - 25 m |
Pressure vessel

Integrated weighing system

Dosing system

Compressed air system

Filter system
| Bulk Material | Grain size | Moisture content | Bulk density | Temperature | Property |
| --- | --- | --- | --- | --- | --- |
| Cement/lime mix | - | trocken | 1.1 kg/dm³ | <80 °C | not abrasive |
Appropriate Topics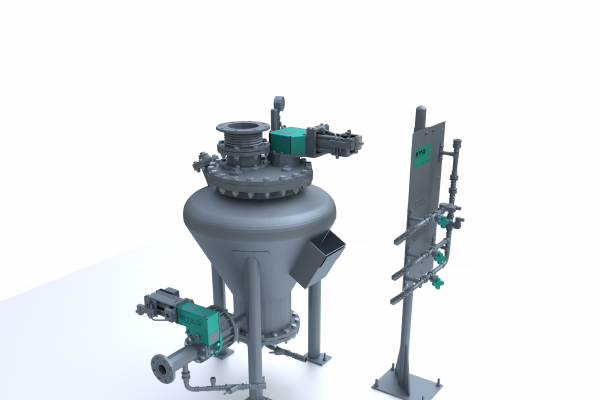 Pressure Conveying Vessel
The pressure conveying vessel is used by STAG when it comes to challenging tasks, high conveying rates and long con-veying distances. This pneumatic conveying application using the dense flow method combines energy-optimised conveying processes with perfect operational safety.
to the product
Designed for crushing lumps as well as agglomerated material within the bulk material.
In lump breaker applications, the oversize grain is prepared for subsequent pneumatic or mechanical conveying or ensiling procedures.
to the product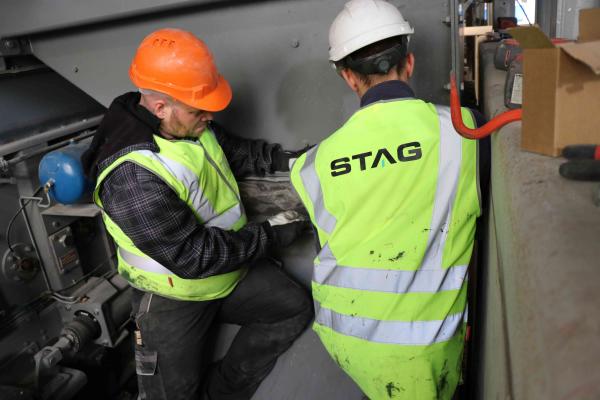 Each year, around 100 service assignments are carried out by STAG. From small inspections up to several-weeks of a total plant revision, our customers have Projektmanager, audit managers and audit teams at their disposal. The life-cycle-oriented service backup serves as the basis. This includes t
to the service