Steinmüller Babcock Environment, based in Gummersbach, is realising the construction of the new waste-to-energy power plant in San Sebastian, Spain.
STAG is in charge of the engineering and supply of the conveying systems ad components for slagging, the entire mechanical and pneumatic boiler ash removal as well as the handling of dry sewage sludge.
The waste-to-energy power plant in San Sebastian is composed of two furnace lines, enabling in particular the continuous feeding of dry sewage sludge containing 75% of dry substances into both furnaces.  
The dry sewage sludge is fed from trucks into bunkers, discharged by means of push floors and transported in both flat bottom silos using the trough chain conveyors. Via silo discharge screws, the dry sewage sludge is fed into tube chain conveyors. Passing four intermediate bunkers and rotary vane feeders, the dry sewage sludge is fed into the two furnaces.
Essential Information
Applied Main Components
•    Wet slagging facility
•    Discharge screw conveyor
•    Trough chain conveyor
•    Pressure conveying vessel
•    Push floor for bunker discharge
•    Flat bottom silos with equipment
•    Tube chain conveyor r
 
Particularities
•    The configuration of the entire dry sewage sludge system conforms to ATEX guidelines.
•    Handling of dry sewage sludge containing 75%.dry substance.
 
Client
•    Steinmüller Babcock Environment GmbH, DE-Gummersbach
Technical Information
| Systems | Conveying rate | Conveying distance |
| --- | --- | --- |
| Slag discharge | 2.7 t/h | 20 m |
| Boiler ash removal | 2.0 – 3.5 t/h | 95 m |
| Dry sewage sludge transport | 3.2 – 4.8 t/h | 93 m |
Wet slagging facility from slag hopper and combustion grate

Boiler ash removal using mechanical and pneumatic conveying as well as impact mill

Bunker discharge of dry sewage sludge by means of push floor system

Mechanical filling of the Flat bottom silos by means of trough chain conveyor sand screw conveyors

Flat bottom silo system including screw discharge

Furnace charging with tube chain conveyor and rotary vane feeder
| Bulk Material | Grain size | Moisture content | Bulk density | Temperature | Property |
| --- | --- | --- | --- | --- | --- |
| Slag | - | 15 % | 1.00 - 1.70 t/m³ | 100 °C | very abrasive |
| Boiler ash | - | max.1 % | 0.50 - 1.20 t/m³ | 650 °C | abrasive |
| Dry sewage sludge | - | max.25 % | 0.93 t/m³ | 50 °C | abrasive |
Appropriate Topics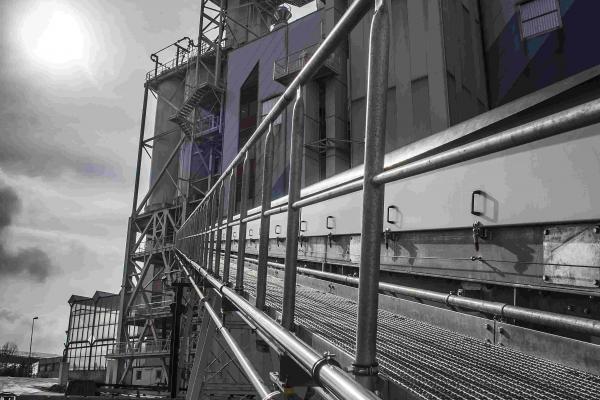 Trockenschlackenaufbereitung KEZO Hinwil / Zweckverband Kehrrichtverwertung Zürcher Oberland
Die Aufbereitung der Trockenschlacke bei der ZAV Recycling AG in Hinwil am Standort der KEZO wurde vom Kunden gemeinsam mit STAG entwickelt, geplant und gebaut.
to the project
Fluid channels are used in silos or bunkers where poor flowing products are stored. A fluid channel is installed slightly inclined, and the extensive aeration ensures an easy discharge of even poor flowing products.
to the product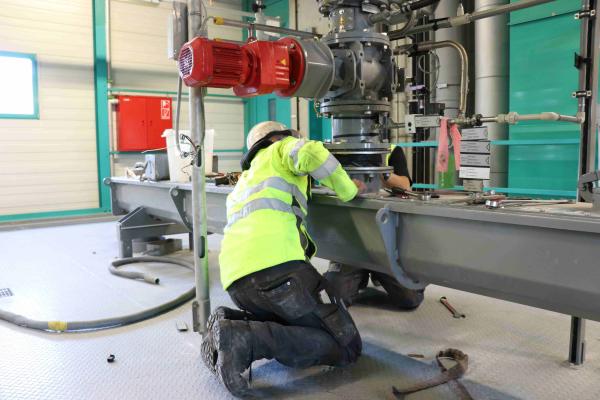 We are happy to carry out the necessary revision of replaced machine components. Send us your aggregate to Maienfeld and we will inspect and revise it. Experienced mechanics and plant and apparatus engineers inspect the unit.
to the service