Transhipment Plant Sedrun
On behalf of Arge Transco Sedrun, STAG engineered, built and successfully commissioned, in 2003, an extraordinary transhipment plant for bulk products such as cements, ashes and microsilica necessary for the construction of the world's longest railway tunnel.  
The bulk materials were delivered by Rhaetian Railway, then pneumatically blown into the silo system and afterwards pneumatically transported, on request, over a longer distance into the concrete mixing facility situated 900 m below at the pit bottom. Due to the unique nature of this large-scale project, STAG AG as the system supplier had to address enormous challenges in all project phases, and managed to master these challenges with great success.  
Essential Information
Applied Main Components for the Portal
Rail wagon unloading station

Silo plant with steel works and integrated compressor station

Fluid air slides as silo discharge system for feeding into the pressure conveying vessels  

Pressure conveying vessel (tandem)

Conveying line

Compressor conveying and control air

Compressor control air

Ventilator fluid air slides

Conveying screw (microsilica) with container loading facilities

Electric cabinet including plant control
Pit head
Pneumatic pressure discharge conveying (tandem)

Dense phase conveying line (Denseflow)
Particularities
Technologically demanding plant control System
Client
AlpTransit Gotthard AG

Arge Transco Sedrun
Technical Information
| Systems | Conveying rate | Conveying distance |
| --- | --- | --- |
| Pneum. Cement conveying portal-pit head | 25 t/h | 1'100 m |
| Pneum. Cement conveying pit head –pit bottom | 25 t/h | 940 m |
Rail wagon unloading station

Silo plant for storage of cements and microsilica

Pneumatic transport of cement

Dense phase conveying lines (Denseflow)

Conveying and control air treatment stations (compressor)

Plant control system

Microsilica loading from silo into containers provided by the customer
| Bulk Material | Grain size | Moisture content | Bulk density | Temperature | Property |
| --- | --- | --- | --- | --- | --- |
| Div. cements | - | < 0.2 % | 1.1 kg/dm3 | < 80 °C | not abrasive |
| Microsilica | - | - | 0.6 kg/dm3 | - | not abrasive |
Appropriate Topics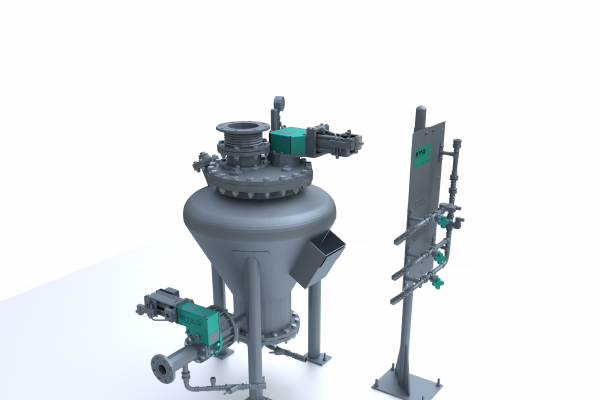 Pressure Conveying Vessel
The pressure conveying vessel is used by STAG when it comes to challenging tasks, high conveying rates and long con-veying distances. This pneumatic conveying application using the dense flow method combines energy-optimised conveying processes with perfect operational safety.
to the product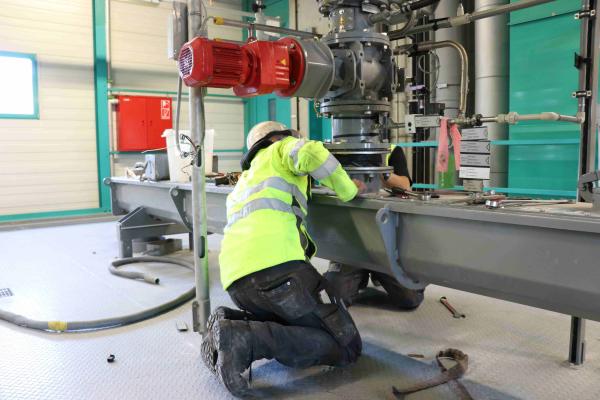 We are happy to carry out the necessary revision of replaced machine components. Send us your aggregate to Maienfeld and we will inspect and revise it. Experienced mechanics and plant and apparatus engineers inspect the unit.
to the service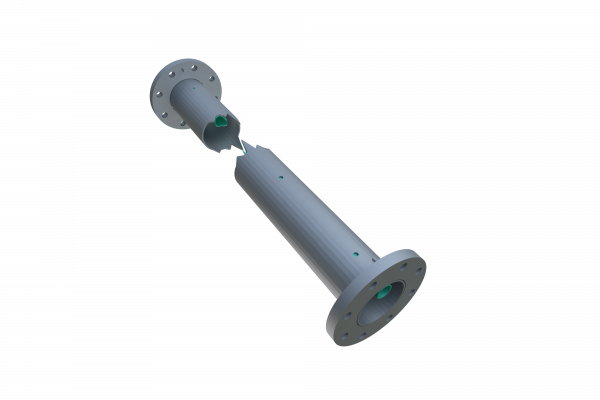 Dense Phase Pipe "DenseFlow"
In conventional conveyances of powdered bulk materials through smooth pipes, the irregularity of the flow rises with the increasing pipe length. This in turn, increases the wear of the system.
to the product