In connection with the modernisation of the sewage sludge treatment system, STAG has been charged with the provision of all conveying technology and bulk material storage facilities on behalf of ARA Bendern (association of Liechtenstein communes for waster water treatment).
STAG constructed and successfully commissioned the mechanical transport of preliminarily dewatered sewage sludge as well as the transport, the storage and the silo vehicle loading facility of dry sewage sludge granulate from the drying unit. The many years of experience in the handling of dust-explosive bulk products as well as the numerous reference plants and incorporation of special components as the silo discharge system (SILEX) were a contributing factor in STAG being awarded the project contract.
Essential Information
Applied Main Components
•    Bucket conveyor
•    Screw conveyors
•    Loading silo including silo vehicle loading facility
•    CO2 inertisation system
•    Silo discharge aid (SILEX)
 
Particularities
•    Dry sewage sludge granulate belongs to the explosive substances.
The safety-related equipment as well as all devices and instruments conform to the applicable regulations and standards regarding the application and handling of combustible dusts. The "ATEX guidelines" have been respected in particular.
 
Client
•    Abwasserzweckverband der Gemeinden Liechtensteins (association of Liechtenstein communes for waster water treatment)
Technical Information
| Systems | Conveying rate | Conveying distance |
| --- | --- | --- |
| Mech. sewage sludge granulate transport from drier to storage silo | 0.75 t/h | 15 m |
| Dry sewage sludge granulate truck loading | 50 t/h | - |
•    Mechanical transport of dry sewage sludge granulate
•    Dry sewage sludge storage
•    Silo vehicle loading
| Bulk Material | Grain size | Moisture content | Bulk den-sity | Temperature | Property |
| --- | --- | --- | --- | --- | --- |
| Dry sewage sludge granulate | 1 - 4 mm (exceptional 10 mm) | 90-93% | 0.75 t/m³ | 45° C | abrasive |
Appropriate Topics
The mechanical discharge aid "Silex" is used for conveying poor flowing and not fluidizable bulk products. It is incorporated into round or angular-shaped silos, bunkers and containers.
to the product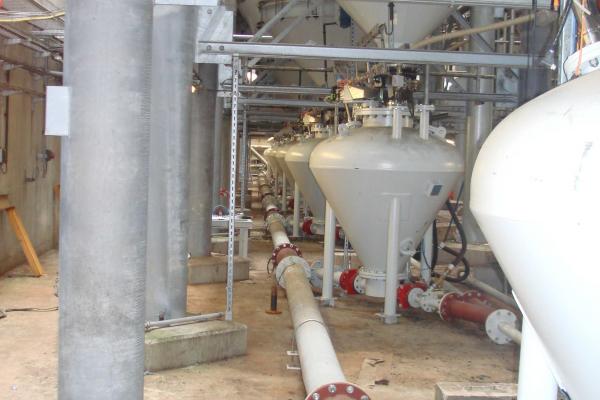 Water Treatment Seine Amont (Valenton)
In order to avoid overheating of dry sewage sludge, the material must be regularly shifted. For this purpose, a pressure conveying vessel provided with two outlet flaps has been installed underneath each storage silo.
to the project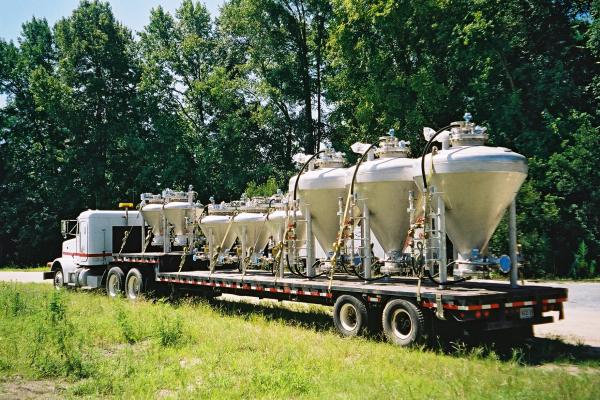 Spare and Wear Part Management
Each year STAG handles around 500 customer orders and achieves satisfied customers around the world. Here too, the focus lies on life-cycle-oriented warehousing as well as the plant availability. The experienced employees of the business area service are happy to answer any questions or suggestio
to the service