The bottom filling is used for conveying and storing bulk products without segregation.
The STAG dense phase conveying system, featuring components that have been especially designed to be used in this application, combined with the successful bottom filling method, ensures a gentle transport into and a segregation-free filling of silos.

The bottom filling system is composed of one or several injection points located on the side of the silo body. The filling of the silos is carried out directly into the bulk material bed. Therefore, the system does not require any falling heights, which in turn allows avoiding – or minimising – segregation of the bulk material. For the distribution into the different filling levels, special bulk material diverter tubes are used.
Essential Information
Experience
Various plants running for the following customers:
-    Alsecco
-    Fixit
-    Marmorit
-    Knauf
-    Ytong
 
Special Characteristics – Application (USP)
-    No product segregation
-    Flexible pipe running
-    Low maintenance
-    Low space requirements    
-    Minimum product deposits in the system
-    Absolutely dustproof    
-    Easy cleaning in case of product change
-    Expansion requires only little cost/work
-    Low noise emission    
-    Retrofitting to existing plants
-    Optimal operational safety         
-    Production plants possible
Technical Specifications
Mixed plasters     

Hydrated lime

Additives                              

Pulverised limestone

Adhesives                                            

Sand

Dolomite                                             

Aerated concrete dust

Gips
Appropriate Topics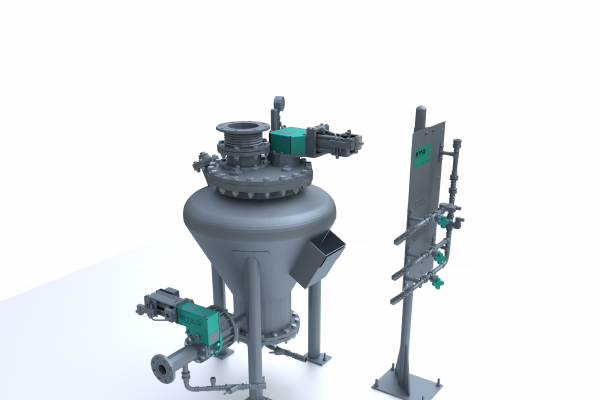 Pressure Conveying Vessel
The pressure conveying vessel is used by STAG when it comes to challenging tasks, high conveying rates and long con-veying distances. This pneumatic conveying application using the dense flow method combines energy-optimised conveying processes with perfect operational safety.
to the product
Diverter and Shunting Pot
The STAG diverter pot constitutes a patented development in the area of pneumatic convey-ance technology, replacing the pipe bend in a series of possible applications.
to the product
Steinmüller Babcock Environment, based in Gummersbach, is realising the construction of the new waste-to-energy power plant in San Sebastian, Spain.
to the project