The Filling Adapter has a very wide field of application. STAG uses this system, among other things, for the emergency discharge of ash removal systems.
Basically, we use the Filling Adapter for the loose and dustfree loading in containers or similar receptacles. The Filling Adapter can be firmly connected with the cover or it can be used as an independant aggregate. Through the hand lever valve the Filling Adapter slopes down and a connection to the receptacles is established. The lifting movement will be conducted by three on the scope distributed pneumatic cylinder. A flat elastomer ring seals the connection dust-free.
Essential Information
Experiences
> 20 pieces in operation
special design with integrated container lid
Special Features – Applications (USP's)
closed, dustproofed execution
can be used to 180°C
simple two-hand control
three pneumatic cylinder for a smooth lifting movement
Branches
Waste-to-Energy Plant
Cement Industry
Paper Industry
Power Plant Industry
Appropriate Topics
Excess Pressure / Low Pressure Valve
The STAG excess / low pressure valve is used to protect containers and silos from either too high or too low pressure conditions.
to the product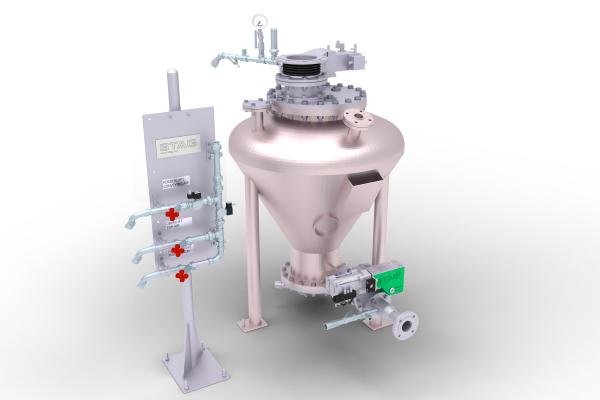 The bottom filling is used for conveying and storing bulk products without segregation.
to the product
The double-sided sealing turn slide valve has been especially designed for pneumatic conveying as part of the STAG pressure conveying vessel technology. No other system can satisfy the high demands of this application.
to the product