The four loops big bags are filled while hanging, the lifting movement being transferred to the load frame fitted with four vertically adjustable load hooks by means of a guide slide run by maintenance-free plastic rollers. The guide slide may either be driven electrically, hydraulically or manually. A ventilation pipe located outside to the product filling tube is integrated in the filler head.
The big bag filling station is suited for the admission and filling of big bags provided with a four-point suspension manufactured according to the DIN 55461 standard. It is possible to use big bags between 1 m3  and 2 m3.
The big bag filling station may be provided with a weighing cell on top or not. The available design variants range from a simple manual operation to an automatic system.
Essential Information
Special Characteristics – Application (USP)
Very low floor space requirements and thus, maximum operation area for standard pallet trucks
Integrated level detector
Bah clamp
May be equipped with active dust removal system
With roller track, 1 palette in the preliminary phase, 5 palettes retrofittable subsequently
Appropriate Topics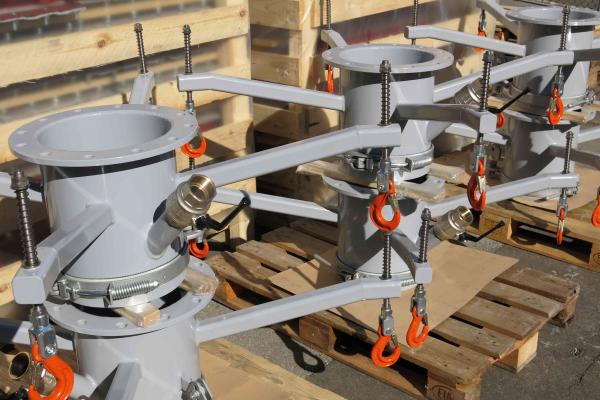 The Big-Bag Uptake Cross is a welded construction, which has been further refined by STAG during the last 50 years. The spring-loaded karabiners simplify the hanging in an out of the Big Bags. The bag clamp ensures that the dust exposure is reduced to a minimum.
to the product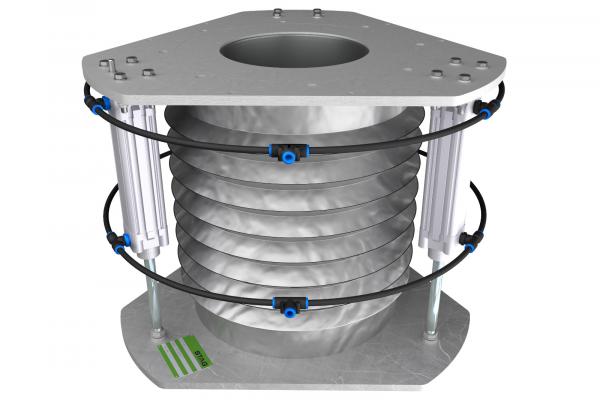 The Filling Adapter has a very wide field of application. STAG uses this system, among other things, for the emergency discharge of ash removal systems.
to the product
STAG offers a selected range of special gate valves in their product portfolio. All gate valves are designed and manufactured for customer-specific demands. At the request of customers the engineering special products are Europe-wide in use.
to the product